EXCLUSIVE 2-PART VIDEO SERIES
Free with purchase of Small Data *Material not found anywhere else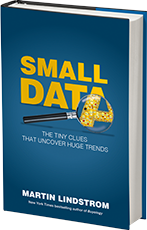 In this two-part video series, you will learn my philosophies for understanding what drives consumer purchases and behavior.
You'll also learn my system for gathering insights to create successful new products and brands. You'll also hear real life stories of Small Data in action.
This exclusive offer cannot be purchased. You can only gain access by preordering my book.
Here is what to do:
Purchase Small Data from your favorite retailer from the links below
Check your email and copy your receipt information from your retailer
Return to this page, click on the button above & complete the form
Check your email for your link to the video
Watch the video and share this page with your friends!