Ready to go to the next level?
Learn how to find the Tiny Clues that reveal the Big Trends in Small Data, the latest Ny Times bestseller by Martin Lindstrom, and put your detective skills into action in his private Facebook group, where you'll learn and interact with thousands of other fans on activities and challenges.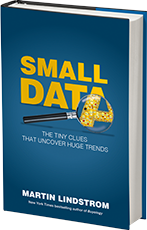 The 7CManifesto Video series, where I walk you through the steps of collecting, examining and implementing Small Data
The Lego Case Study, where you'll learn how one of the biggest manufacturers in the world used Small Data to turn their company around
The Small Data Case Study, so you can see Small Data in Action
The Small Data Group Study Guide, with intriguing insights and guided questions to help you fully understand the concepts
Here's how to Join:
Purchase Small Data from your favorite retailer from the links below
Check your email and copy your receipt information from your retailer
Return to this page, click on the button above & complete the form
Check your email for your link to your gifts
Share this page with your friends!