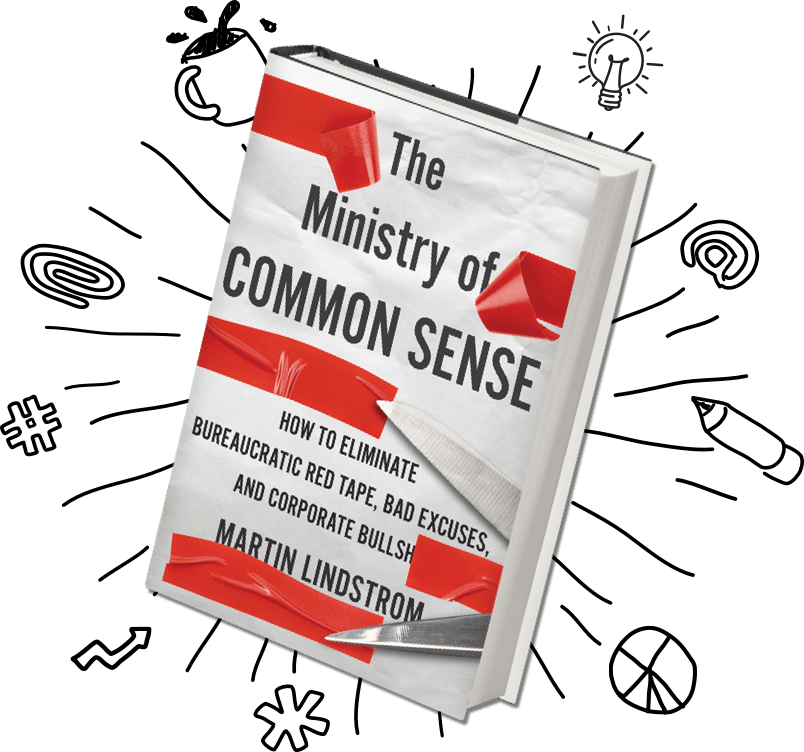 The Ministry of Common Sense shows you how to restore common sense, and enjoy the benefits that come with it! (and we mean real company benefits).
What you're about to read isn't just sporadic ideas but solutions tried and tested among hundreds of businesses over the past decade. And shown to work.
And yes – there are indeed real Ministries – set up within companies – with the sole purpose of vacuum cleaning all the useless rules, regulations and day-to-day trivialities we all can live without.
The more organizations scale and get stale, the more employees become victims of standardized rules, procedures and old habits that have never been questioned for logic. Once we've learned to become corporate, we suppress our instinctual empathy and ignore what we know about right vs. wrong and smart vs. foolish. We forget how we'd feel in a customer's shoes if a bank froze our accounts, if a telecom company sent a nasty letter, or if a call-centre transferred us five times. Before long, most of us become not only numb, but complicit in crimes of corporate nonsense, even when they lead to frustrated customers, poor morale, lost revenue, and stifled innovation.
What has happened to common sense? And how can we get it back? Companies, it seems, have become so entangled in their own internal issues, and further beset by reams of invisible red tape, that they've lost sight of their core purpose. Inevitably, they pay the price.
#MinistryOfCommonSense
ORDER NOW