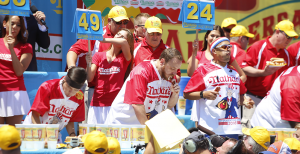 Today in the USA it's not just July 4th, it's the Fourth of July.
Now tell me, as you read those words, what was the first thing that popped into your head? Was it fireworks? The Declaration of Independence? The old Red, White, and Blue?
While it's reasonable any of these could be the first thing you think of, two brothers fought hard, and succeeded, in embedding something else in the American consciousness – Nathan's Hot Dog Eating Contest. You may look at this famous frankfurter-gorge-off and see it as a celebration of gluttony, but take a closer look, and I think you'll discover it's the result of some incredible marketing.
The current hot dog eating contest only came into its own in 1997, when PR mavens Richard and George Shea, brothers who had worked for Nathan's, took the formerly small-time sideshow at Coney Island to the big time.
The Sheas created the International Federation of Competitive Eating (now known as Major League Eating), to formalize the sport, and went to work expanding the competitive eating brand and wooing sponsors.* It was genius! The brothers knew a standalone event, in a niche market, would never capture nationwide (or even worldwide) attention like a whole sports league could because of the lack of brand storytelling – we need time to familiarize ourselves with the characters, choose who to root for, and understand their role. Multiple events throughout the year establish favorites and underdogs, sometimes even heroes and villains.
So the brothers elevated awareness of the event by shifting the conversation from a one-time spectacle to the crown jewel of a year-long set of serious and competitive events. In the process they allowed rivalries to develop and drive media coverage. While the league may reduce the uniqueness of a yearly hot dog eating contest, it also counterintuitively raised interest, built its legitimacy and took a parochial event to worldwide fame.